2nd Day of CIIE: COSCO SHIPPING Successfully Hosted the World Shipping Summit 2018 and Signed Procurement Agreements
On November 6, COSCO SHIPING hosted the World Shipping Summit 2018 during the first China International Import Expo. It also signed a number of procurement agreements as well as strategic cooperation agreements with its partners, and participated in related activities.
In the morning, the Chinese Central SOE International Cooperation Forum was hosted by the State-owned Assets Supervision and Administration Commission of the State Council at the CIIE. COSCO SHIPING Chairman Capt. Xu Lirong and Executive Vice President Huang Xiaowen attended the forum.
World Shipping Summit 2018

In the afternoon, the World Shipping Summit 2018, also hailed as the "Davos Forum of the shipping industry", was hosted by COSCO SHIPPING in Shanghai. The summit attracted nearly 1,000 representatives from the fields of economy, trade, shipping, ports, logistics and finance from a dozen countries and regions around the world.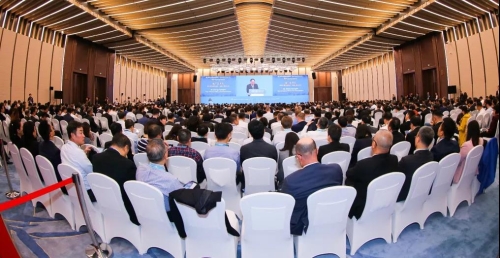 Mr. Xiao Yaqing, Chairman of the State-owned Assets Supervision and Administration Commission of the State Council (SASAC), Vice Minister of Transport Mr. He Jianzhong, Vice Mayor of Shanghai Mr. Shi Guanghui and Mr. Zhang Guangzhi, Head of the National Office of Port Administration under the General Administration of Customs addressed the opening ceremony. Chairman of COSCO SHIPPING Capt. Xu Lirong delivered a keynote speech at the forum.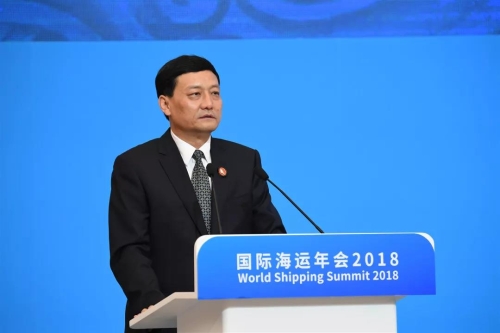 According to Mr. Xiao Yaqing, the recent years have witnessed extensive trade contacts between Chinese central SOEs and foreign enterprises. The types, volume and amount of their trade have been growing, making important contributions to the prosperity of global trade. The SASAC will continue to support the cooperation between centrally-administrated shipping companies and various parties to promote the Belt and Road connectivity and improve the global shipping network and supply chain, while sharing the achievements of reform and development for mutual benefits and common development.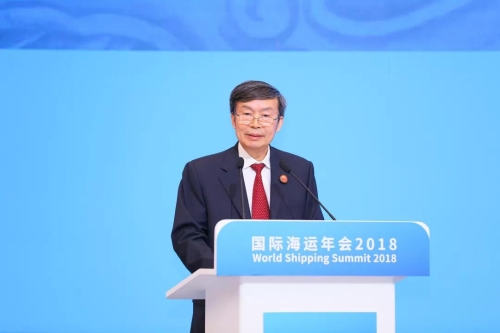 In his speech, Mr. He Jianzhong said in order to build China into a country with strong transportation network and a maritime power, the Ministry of Transport will further open up China's shipping market, optimize the port environment, develop green shipping, improve the governance system, and unswervingly promote a higher level of openness in the shipping industry. With a focus on the 21st Century Maritime Silk Road, it will reinforce practical cooperation, improve connectivity, optimize the supervision process and boost the transportation efficiency to provide strong support for global trade and investment facilitation and build a maritime power enjoying high-quality development.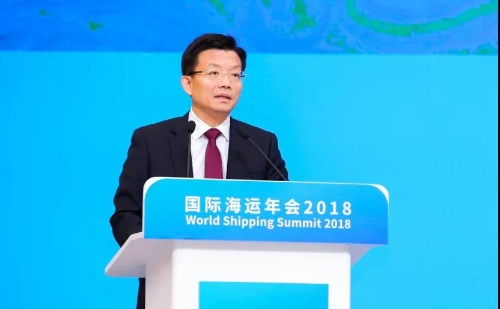 Mr. Shi Guanghui said in his speech that shipping, a major carrier of global trade, is an important driving force in global industry chain cooperation. Standing at a new starting point of reform and opening-up, Shanghai will adopt a more "open, innovative and inclusive" attitude and follow the highest international standards to build an internationally competitive business environment for the shipping industry. The city will strive to improve its service efficiency and quality as a hub for sea and air transport and a cruise homeport, strengthen the cohesive force and external influence of its modern shipping service industry, and break new ground in building an international shipping center.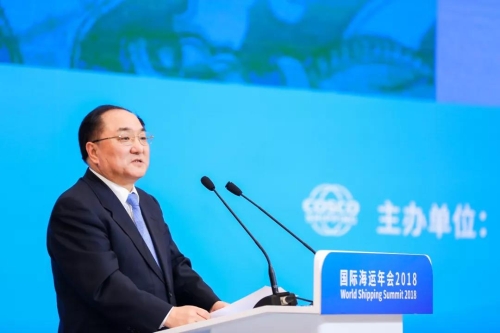 Mr. Zhang Guangzhi said that China's customs has benchmarked itself against international advanced level and deepened the reform in entry, exit and customs clearance to promote trade facilitation. Next, they will further optimize the business environment at ports to facilitate cross-border trade.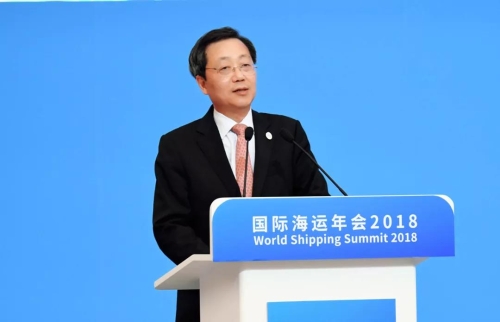 Capt. Xu Lirong made a keynote speech titled "Returning to Primary Business Is the Only Way Forward for Shipping Companies". He said despite the ever-changing macro economy, the status and role of shipping – the most important carrier of global trade – have never changed. So far, the scale, size, network and cargoworthiness of shipping are all irreplaceable. Although the market of industrial factors, such as technology, cost, and rules, are changing, the "service nature" of shipping has never changed. The competitive landscape of companies is changing, but the values of shipping have remained the same. After years of exploration and development, shipping players have reached a consensus: zero-sum game cannot work and cross-border operations need more cooperation. Only the flows of cargo, information and capital are opened up can we develop one-stop logistics solutions, boost the efficiency of industry chain and maximize customer value.
On the occasion of the 40th anniversary of China's reform and opening-up, Capt. Xu said, hosting the first CIIE has demonstrated China's resolution to open wider to the world as well as its momentum of stable economic growth and belief in the established pattern of global trade. Only by providing quality services to customers and adhering to the concept of sharing and win-win cooperation can the shipping industry achieve sustainable development in a changing marketplace.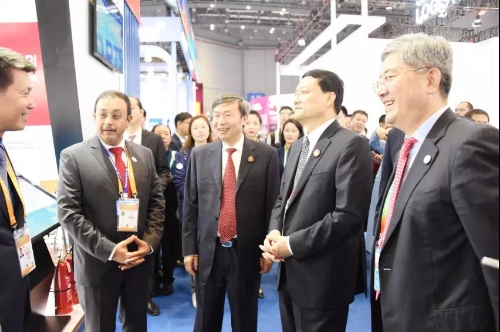 During the summit, accompanied by Mr. Sun Jiakang, Executive Vice President of COSCO SHIPPING, a delegation led by Mr. Xiao Yaqing and Mr. He Jianzhong showed up at "The Belt and Road: Interconnection Special Zone" and visited the booths of COSCO SHIPPING Piraeus Port Ltd., Abu Dhabi Terminal under COSCO SHIPPING Ports and OOCL. After watching the promotional film of COSCO SHIPPING Piraeus Port and the interactive screen of Abu Dhabi Terminal, the two leaders fully recognized the Belt and Road construction and prospects of COSCO SHIPPING at the Port of Piraeus.
Revolving around the theme of "New Pattern of World Trade, New Challenges of Logistics Evolution", about 20 renowned economists and leaders of ports, carriers, logistics and related sectors from all over the world discussed the new growth drivers of trade and shipping and shared their thoughts on major issues regarding the international shipping market.

Highlights

Mr. Gegore Katrougalos, Greek Alternate Minister for Foreign Affairs, introduced how globalization is materialized in the shipping industry. He said he totally agreed with the idea that "economic globalization is an irreversible trend of history" mentioned by President Xi Jinping in his opening speech. He talked of the close relations between Greece and China in the shipping community, citing COSCO SHIPPING Piraeus Port as a successful case concerning the Belt and Road Initiative. As the world economy is undergoing tremendous changes, he called upon joint efforts to prepare for the challenges and seek win-win outcomes.
Chairman of China Construction Bank Mr. Tian Guoli said, as a natural partner of shipping, the finance sector has been providing quality and efficient services for shipping companies to support their integration of industrial resources and reduction of operating costs. Fintech innovations will help secure the long-term growth of the shipping industry, further integrate technology, finance with shipping, help shipping firms build an ecosystem featuring win-win cooperation, and give a boost to seaborne trade.
Group CEO of PSA International Tan Chong Meng said Asia has captured a growing share of global trade, and technologies such as AI and blockchain have facilitated changes in the shipping industry by improving services and reducing costs. In this context, PSA will increase investments in the Chinese mainland, gain more market shares and further develop intermodal transport.
According to Professor Zhiwu Chen, Director of the Asia Global Institute (AGI) and Victor and William Fung Professor in Economics at the University of Hong Kong (HKU), as all countries will face economic challenges, companies are advised to focus on their primary business.
Mr. Steve Siu, Deputy General Manager of COSCO SHIPPING Holdings, and Director & CIO of OOCL, said the vision of the Global Shipping Business Network (GSBN) is to lay the digital benchmark for the future shipping industry. In the short term, a set of industrial standards collaboratively prepared by industrial players and common shipping data will significantly boost the operation efficiency and facilitate the information exchanges between business stakeholders. In the long run, it will drive innovative business modes and show the market the value it creates.
Mr. Michael Lund Piil, Deputy Secretary General of BIMCO, predicts the future trends of the international shipping market. He stressed that sustainable globalization is crucial for the shipping industry, calling for free and open global trade.
Mr. Ning Gaoning, Chairman and Secretary of the Party Committee of Sinochem Group, said in his speech that China has the world's largest imported oil & gas consumption market, the oil & gas industry has become increasingly globalized, and the imported LNG transportation market enjoys a broad space for development. China will make full use of domestic and overseas oil & gas markets and resources to promote the development of oil & gas trade.
Chairman of China Eastern Airlines Liu Shaoyong said, over the past four decades of reform and opening-up, China has experienced a "consumption upgrade", which has structural impacts on the forms of international trade. Global logistics and ecommerce have also emerged during this period. China Eastern Airlines will work and grow with COSCO SHIPPING.
Mr. Jia Jingzhong, Chief Economist at CHN Energy, said in 2019, coal demand tends to stay stable with small price fluctuations, oil demand will maintain steady growth, while demand for natural gas will keep growing rapidly and should be a hotspot in energy trade.
Mr. Mario Cordero, former Chairman of the Federal Maritime Commission and Executive Director of the Port of Long Beach, said the Port of Long Beach has been a staunch supporter and participant of international trade. Looking forward, it will advance modernization and invest in terminals and rails, and guarantee smooth cargo transport with technology.
Mr. Rodolphe Saadé, Chairman of the Board and CEO of CMA CGM, said the future trends of the international shipping industry lie in a focus on customer needs and the promotion of digitalization and end-to-end solutions.
CEO of Baltic Exchange Mark Jackson said the Belt and Road Initiative has changed the pattern of trade and injected vitality into global economic development.
Vagner Loyola, Director of the Ferrous Value Chain at Vale, vowed efforts to carry forward he innovative concept of "making the world smaller" and offer the best iron ore service to Chinese steel mills, expecting to deepen partnerships with COSCO SHIPPING and other Chinese enterprises in the years to come.
President of KTZ Kanat Alpysbayev said with the implementation of the Belt and Road Initiative, China and Kazakhstan have made qualitative leaps in railway cooperation.

COSCO SHIPPING Signed Procurement Agreements with Partners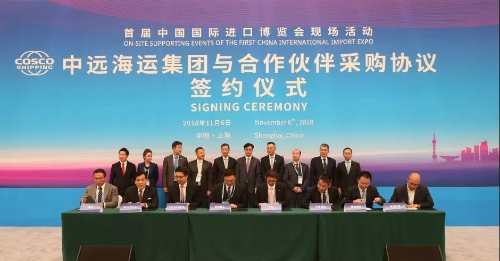 On November 6, COSCO SHIPPING's subsidiaries signed 27 procurement agreements with their global partners at the National Exhibition and Convention Center in Shanghai.
COSCO SHIPPING Lines Co., Ltd., among others, signed terminal service agreements with nine terminal companies around the world, and shipyards under COSCO SHIPPING Heavy Industry Co., Ltd., including Nantong COSCO KHI Ship Engineering Co., Ltd., COSCO SHIPPING (Qidong) Offshore Co., Ltd. and COSCO SHIPPING Heavy Industry (Yangzhou) Co., Ltd., entered into marine equipment and spare parts procurement agreements with 12 suppliers. In addition, China Marine Bunker (PetroChina) Co., Ltd., COSCO Petroleum Co., Ltd. and China Shipping (Singapore) Petroleum Pte. Ltd. concluded bunker oil procurement agreements with five suppliers, and Shenzhen Yuanshang Marine Technology Co., Ltd., a subsidiary of COSCO SHIPPING Energy Transportation Co., Ltd., inked a marine spare parts procurement agreement with one supplier. Over the years, COSCO SHIPPING has established stable partnerships with suppliers all over the world. Signing those procurement agreements will help the Corporation develop its long-term business.
Mr. Huang Xiaowen, Executive Vice President of COSCO SHIPPING and executives from COSCO SHIPPING Lines, COSCO SHIPPING Heavy Industry, COSCO SHIPPING Energy, China Marine Bunker (PetroChina) Co., Ltd., COSCO SHIPPING's Operating Management Division and Global Procurement Center, and related suppliers witnessed the signing of agreements.

COSCO SHIPPING Signed Cooperation Agreements Multiple Strategic Partners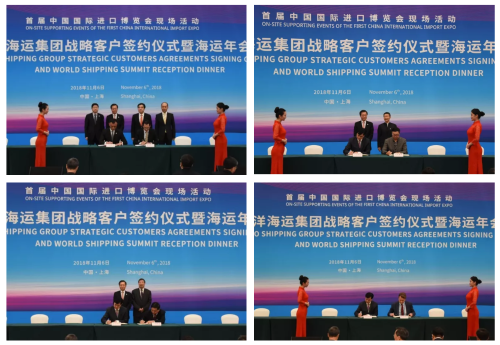 On November 6, COSCO SHIPPING signed cooperation agreements with its key partners, including China Construction Bank, Harbin Electric Corporation, China Railway Construction Corporation, Stora Enso and Metsäliitto Cooperative at the first China International Import Expo (CIIE).
After the signing of agreements, the parties will, based on the principles of "long-term interests, market leadership and win-win cooperation", establish comprehensive strategic partnerships to provide high-quality products and services for each other and help attain the strategic goals of both sides.

Sun Jiakang Addressed the 5th China-Italy Business Forum

On the morning of November 6, the 5th China-Italy Business Forum was held at the conference hall of the Shanghai InterContinental Hotel (National Exhibition and Convention Center) during the 1st China International Import Expo. Mr. Sun Jiakang, Executive Vice President of COSCO SHIPPING, was invited to the forum and delivered a keynote speech at a seminar on "Global Cooperation Opportunities – Silk Road in the Mediterranean and Africa". Nearly 300 representatives from the governments and business communities of China and Italy attended the event.
Chinese and Italian enterprises enjoy a solid foundation in the Silk Road cooperation, and Italy's development strategy is highly consistent with China's Belt and Road Initiative. The CIIE, which offers new opportunities for business cooperation between the two countries, is conducive to the growth of two-way investments and will promote the cooperative projects under the B&R framework.
Chinese and Italian companies should make use of their respective advantages and deepen the Silk and Road cooperation. COSCO SHIPPING expects to share resources with Italian businesses in terms of terminal investment, logistics park construction, shipbuilding and cruise industry to achieve common development.
COSCO SHIPPING called upon enterprises from both countries to leverage CIIE as a platform for global trade cooperation to develop emerging markets in Central and Eastern Europe, the Mediterranean and Africa. By combining China's advantage as a global manufacturing center and Italy's favorable geographical location and technical strength, they can foster synergies in third-party markets and benefit the whole world.
Leaders of COSCO SHIPPING and its related divisions and affiliated centers, as well as executives from its subsidiaries took part in related activities.